X-Men: Apocalypse
PG, Action, 136 min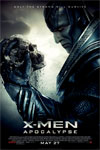 Watch Trailer
Ruling Egypt thousands of years ago, En Sabah Nur, also known as Apocalypse (Oscar Isaac), was the first mutant in existence. Betrayed by his worshippers, he was entombed, while his followers, the Four Horsemen, were destroyed. Centuries later, in 1983, he awakens to find the world is not as he left it. He believes mankind to be corrupt and weak, and seeks to destroy all humans and mutants in order to build anew.
He recruits a grieving Magneto (Michael Fassbender), who just lost his wife and child, as well as other wayward mutants to create this new world order. Charles Xavier, now Professor X (James McAvoy), and Raven (Jennifer Lawrence) must now lead a team of young X-Men to fight against Apocalypse and the inevitable destruction of the Earth.
Canadian Connection: Filmed in Montreal. Some actors in minor roles are Canadian.
X-Men: Apocalypse 3D
PG, Action, 136 min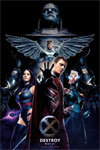 Watch Trailer
Since the dawn of civilization, he was worshipped as a god. Apocalypse, the first and most powerful mutant from Marvel's X-Men universe, amassed the powers of many other mutants, becoming immortal and invincible. Upon awakening after thousands of years, he is disillusioned with the world as he finds it and recruits a team of powerful mutants, including a disheartened Magneto, to cleanse mankind and create a new world order, over which he will reign. As the fate of the Earth hangs in the balance, Raven with the help of Professor X must lead a team of young X-Men to stop their greatest nemesis and save mankind from complete destruction.