Pete's Dragon
PG, Family, 102 min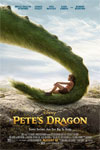 Watch Trailer
Pete (Oakes Fegley) is a 10-year-old boy who has been living in the woods for years. He hasn't been around humans, instead living a peaceful life with Elliot, the dragon who found him when he was four, and the other animals of the forest.
When a forest ranger (Bryce Dallas Howard) spots Pete, she tries to figure out where he came from. Worried for his safety, she takes him in. When he draws a picture of Elliot and claims the dragon is real, she goes to her father (Robert Redford) for advice. For years, he's been telling local kids about meeting a dragon living deep within the forest. Grace tries to get to the bottom of Pete's unbelievable story and his mysterious friend.
Pete's Dragon 3D
PG, Sci-Fi/Fantasy, 102 min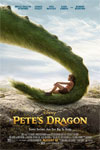 Watch Trailer
For years, old wood carver Mr. Meacham has delighted local children with his tales of the fierce dragon that resides deep in the woods of the Pacific Northwest. To his daughter, Grace, who works as a forest ranger, these stories are little more than tall tales... until she meets Pete. Pete is a mysterious 10-year-old with no family and no home who claims to live in the woods with a giant, green dragon named Elliot. And from Pete's descriptions, Elliot seems remarkably similar to the dragon from Mr. Meacham's stories. With the help of Natalie, an 11-year-old girl whose father Jack owns the local lumber mill, Grace sets out to determine where Pete came from, where he belongs, and the truth about this dragon.